Adding Terminal
Press the button "Add" in the main screen of the conversion server. The following screen appears: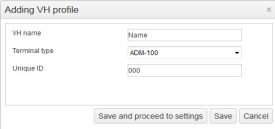 Enter the name and registration number of the VH next to "VH Name". The VH name must contain 3-64 characters. It should coincide with the VH name loaded in Omnicomm software.
Select the type of onboard equipment installed on the VH next to "Terminal type".
Enter IMEI or factory number of the terminal next to "Unique ID". The identification number must contain 3-20 characters. Allowable characters are Latin letters and digits.
"Customer" - enter the name of the client that owns the terminal.
To add a terminal and then set it up, press the button "Save and proceed to settings". Data conversion setting screen for the added VH opens.
To add the terminal and proceed to the main screen of the conversion server, press "Save".
In case of any inaccuracies when adding a terminal, please contact Omnicomm technology support department by email support@omnicomm-world.com or by the telephone numbers shown at www.omnicomm-world.com.