Product Installation
For tanks which shape corresponds with the figure (Figure 2), installation should be carried out in accordance with Appendix E.
1) Put the gasket included into the product delivery set on the measuring part of the product (Figure 24).
2) Install the product into the tank.
3) Fix the product to the tank by bolts, having preliminary installed the washer and the spring washer as shown in the figures (Figure 14, Figure 15). The bolts should be tightened by a spanner.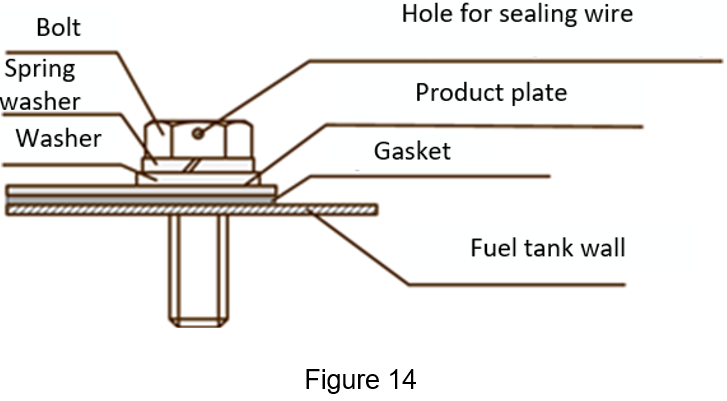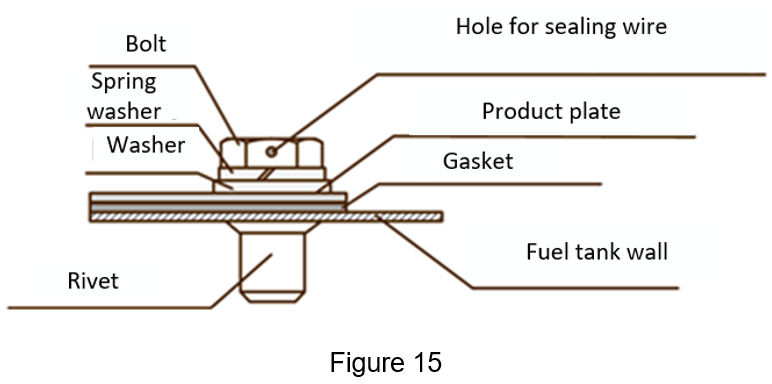 4) When the product is installed on plastic tanks with wall thickness over 3mm, the product must be fixed by a self-tapper included into the delivery set. Self-tapper tightening strength should be such that the rubber washers put on the self-tapping screws are not crumpled or burst.
5) When installing the Product with the measuring part length over 1.5 m into fuel tanks of special vehicles (e.g. petrol tankers, diesel locomotives it is necessary to ensure that there are no fuel wave shocks during sharp acceleration and breaking operation of the vehicle. For this purpose, it is recommended to install the products near wave suppressing partitions, or the measuring part of the LLS fuel level sensor should be reinforced in one of the following ways: with steel pins (Figure 16, Figure 17); collars or steel rods (Figure 18, Figure 19), or installed onto the flange.
IMPORTANT! Strengthening the measuring part of the LLS fuel level sensors is only allowed for removable filler caps. Refer to the Appendices K, L for the detailed description of methods for strengthening the measuring part of the LLS fuel level sensors.