SETUP PARAMETERS OF UPLOAD TO TERMINALS
After specifying the parameters (para. 6.1 — 6.23) to be set in the terminals, press the button "Apply settings" in the main screen of the Configuration server (Figure 27).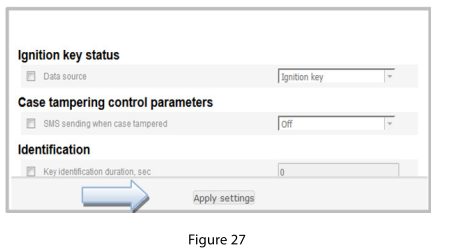 The column "Tasks queue" displays the setting or firmware depending on the set parameters (Figure 28). During the subsequent connection of the Omnicomm terminal to the remote configuration server, the settings will be uploaded to the terminal.

Omnicomm terminals establish the connection with the remote configuration server once every 6 hours. To speed up the process of uploading the settings and updating the firmware (if required), send the SMS com - mand: *CONNECTSC# to the number of the SIM-card installed in the terminal.