Access Reports via a Link
The "Location", "Track", "SafeDrive: Violation Details", "SafeDrive: Driver Rating" reports, as well as a workspace based on these reports can be accessed via a shared link without the need for authorization in Omnicomm Online.
To get link creation rights, contact the Omnicomm technical support team at [email protected].
Sharing a link with a user:
Select a vehicle

Select a time period for which you wish to build a report or workspace reports

Click the "Add report" button and select a workspace, a "Track" or a "Location" report, "SafeDrive: Violation Details" or "SafeDrive: Driver Rating"
The program window will display the workspace or one of the reports. Right-click the workspace tab or the report name: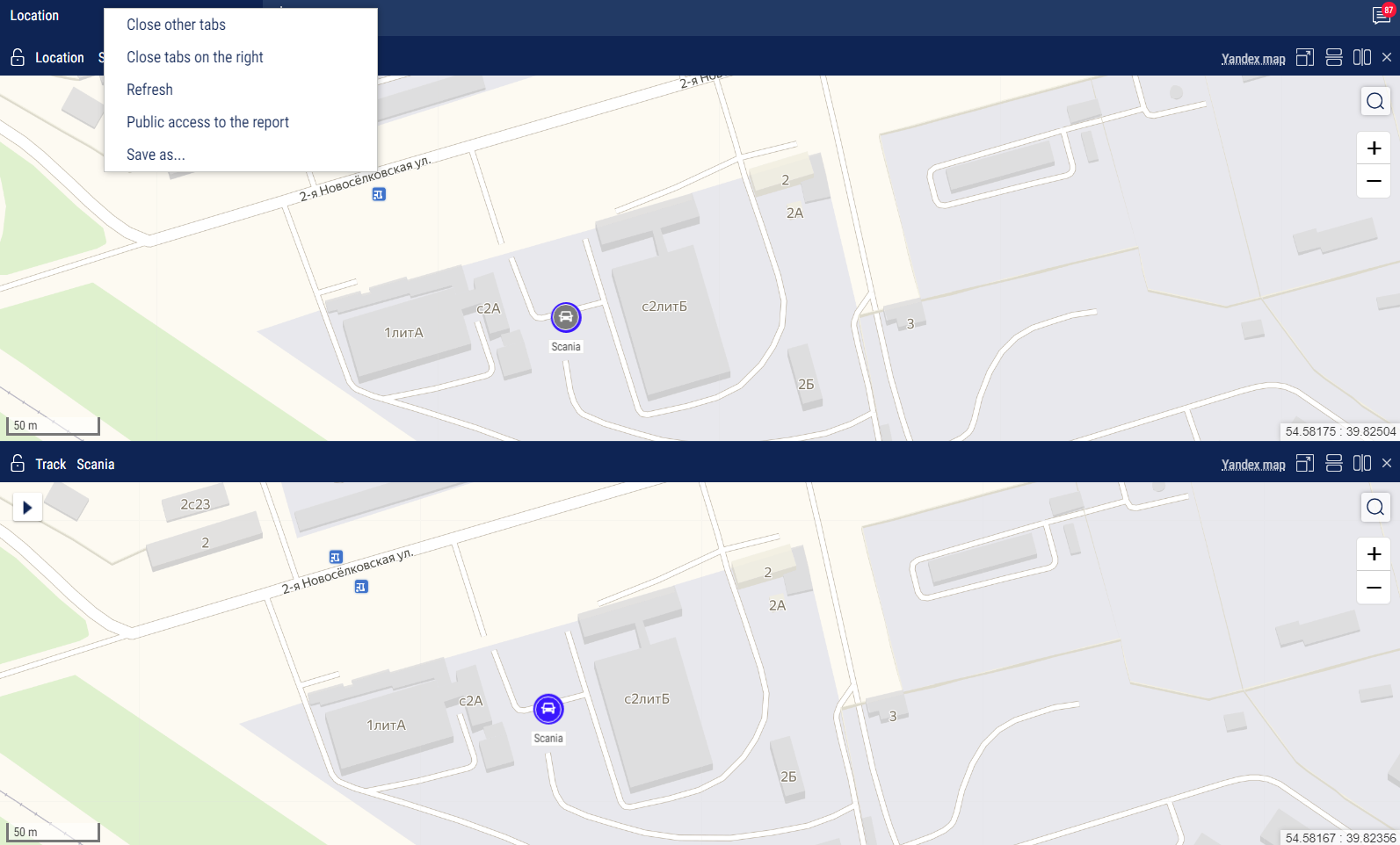 Select "Publiс access by the link" / "Create a link":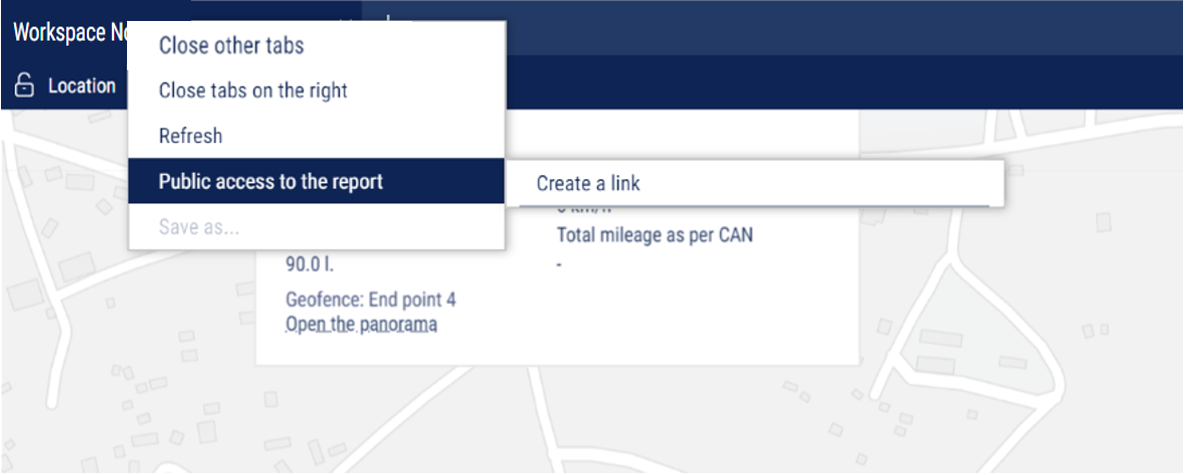 A window will open: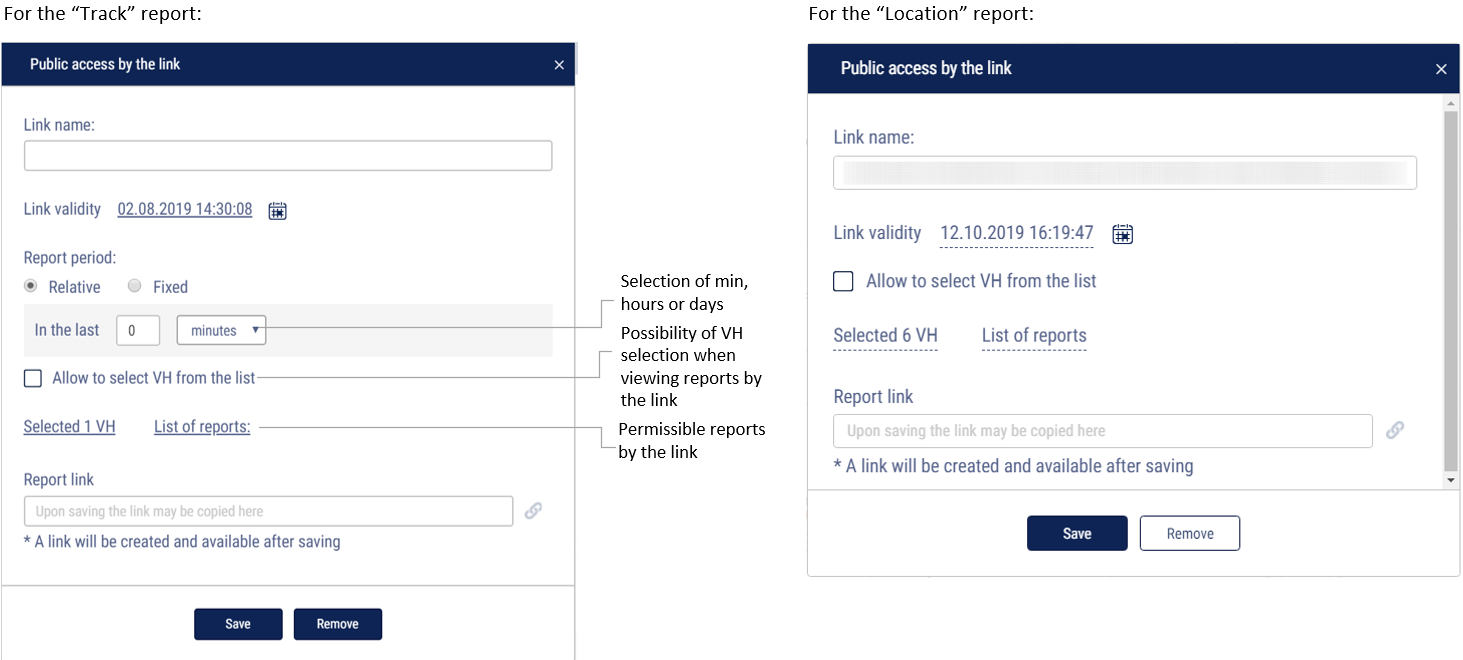 "Link name" - enter the link name that will be displayed in the link menu.
"Link validity" - specify the date and time until which the link will be valid for viewing the reports.
In the "Data availability period" (except the Location report):
The period selection is not available for the Location report. The report is generated according to the latest relevant data of the vehicle.
"Relative" - select to count the time from the current moment.
"In the last" - specify the time for which you want to generate reports
"Fixed" - select this option if the period of report generation is limited by calendar dates.
"Allow to modify data period within the range" - check the box to allow changing the report period within the selected calendar dates
"Available reports" - workspace reports. Possible options: Track, Location, Fuel Volume, Refueling and Draining, Visiting the Geofences, MultiTank: Fuel volume in the tanks, SafeDrive: Violation Details, SafeDrive: Driver Rating.
Click "Save" to automatically save the report access link to the clipboard and display it in the "Report Link" field.
The created links will be saved and displayed in the "Publiс access by the link" menu.
To edit or delete a link, select it from the "Publiс access by the link" menu. You can edit the link parameters in the window that opens.